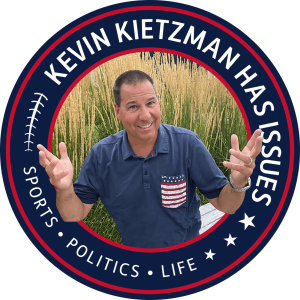 Tuesday Jan 31, 2023
Chiefs Need Kill Shot, Mahomes the Underdog, Pebble Beach Brings Goosebumps, College Teams all Roll
   While the whole country is wasting their time talking about Ron Torbert and his officiating team Sunday, I saw something else.  Yes, there were dramatic calls and dramatic plays but the Chiefs did two specific things in the game that kept it from being an easy win.  This team has two weeks to learn how to deliver the kill shot.
   Patrick Mahomes feels like an underdog as the Eagles are favored in the Super Bowl.  It's a ridiculous thing to even put in the same sentence.  Patrick Mahomes and underdog go together like Joe Biden and genius.
   I've got a couple stories to share from our weekend at Pebble Beach Golf Club in California... including where I got goosebumps just walking.  Also, I replicated Tom Watson's famous shot on 17 in the1982 US Open and took a photo of the monument in the ground where his ball was.
   And what a Saturday for KU, MU and KSU.  It's all here at KKHI.