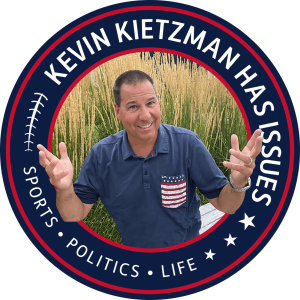 Friday Aug 11, 2023
Chiefs WR's in Focus, Parson Gets Chiefs Tattoo, Native Group: "Bring Back Redskins", Gambler Outs Phil, Joe Wants Name Back, Actor Supports RFK Jr
   Of course its only the start of preseason for the Chiefs but that doesn't mean we don't have a couple clues to look for as the KC plays the Saints on Sunday.
   Missouri Governor Mike Parson has done a fine job in the Show Me state and now has something to show for it... his first tattoo.  Yes, it has a Chiefs Super Bowl 57 theme, but it's much more than that.
   A national organization committed to promoting native American history is demanding the Washington Commanders, whose new owners are changing the name, BRING BACK the name Redskins.  
   The greatest sports gambler in history has a new book coming out and it's got a ton of juicy details about the partnership he and golfer Phil Mickelson had.  Your jaw will drop.
   Joe Biden wishes he hadn't name the Inflation Reduction Act the way he did.  This is an all timer as he admits to lying to America while trying to take credit with climate freaks.
   And an actor that made news hosting SNL is now wearing an RFK Jr ball cap and liberals everywhere are completely freaking out.