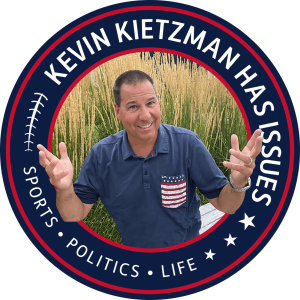 Wednesday Sep 13, 2023
Chris Jones Loses Big, Kelce & Taylor Swift, NFL Eyes Owning College Football, Impeachment Inquiry Falls Flat, Fugitive Caught, Packers Bar Tab Payoff
   If the reports from ESPN are accurate, Chris Jones lost big from his holdout with the Chiefs.  Really big.  He got no raise, some crazy hard to reach incentives and lost $3.6 million sitting out.  Oh, and the Chiefs can now franchise tag him next year.  This was insane.
    According to Page Six in New York, Travis Kelce has been "hanging out" with Taylor Swift.  Oh, boy, Jessica is not happy with this at all.
   Sports Biz Journal reports multiple sources saying the NFL wants to dissolve the NCAA and take over as owner and operator of college football.  This plan will cut out at least 20 schools currently considered in Power Conferences.
   Kevin McCarthy has such a dull way about him that the Speaker's announcement of an impeachment inquiry in Joe Biden just fell flat.
   The fugitive in Pennsylvania is caught after two weeks... did you know this killer was in America illegally?
   And a Wisconsin bar that is home to Packers fans became a Jets hating bar after Aaron Rodgers switched green.  They offered a crazy promotion for free drinks when the Jets lose and Packers fans were drinking like crazy for three hours Monday night.  Until they had to pay up.