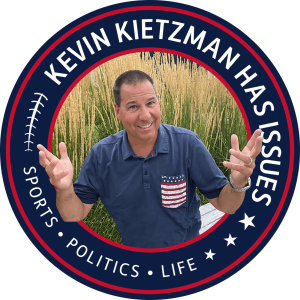 Wednesday Sep 20, 2023
KCTV5 Lawsuits Pile Up, Local FBI Agent Infiltrates J6, Trump Speech Roils Biden, Chiefs Set Record, Mahomes Wants to Punt, KC Ballpark Money Problem
   Three lawsuits have been filed by journalists in four months against the parent company of KCTV 5 News In Kansas City and I can't ignore this anymore.  It's right in the wheelhouse here at KKHI as I'll let you know just how ridiculous local tv news has become. 
   As the House investigates the failures of security from January 6 it is learned that an FBI Field Officer from Kansas City was dressed as a Trump supporter and apparently leading demonstrators into the Capital.
   When the GOP holds its debate next week, Donald Trump will be giving a speech to the United Auto Workers in Detroit.  You think the other candidates are getting played?  Well, wait until you hear what a couple of the Biden people are saying off the record about this move.
   The Chiefs set an NFL record with their win on Sunday and it's a doozy.  Patrick Mahomes tells Carrington Harrison of 610 Sports Radio he wants to punt in a game and the Royals still have a giant financing hole in their plan for a new ballpark.