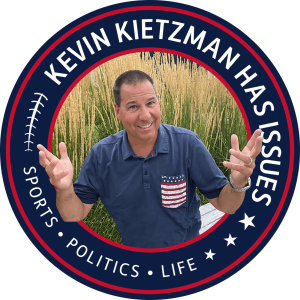 Tuesday Sep 12, 2023
Rodgers Exits w/Class and Dignity, Jones Holdout was Stupid, GOP Should Arrest House Intruders, Biden Lies About 9/11, Trump Lawyers Voting Stats
   It was sad to watch Aaron Rodgers' career likely come to an end Monday night after all the hype.  But watching that great player run into that stadium in New York on 9/11 carrying the American Flag and seeing how he left with total class will leave quite a mark.  He could have been the whole show standing on the sideline in a boot, but instead, encouraged his teammates at halftime and chose to not be a distraction.  Total pro move.
   Chris Jones holdout is over and we're all asking the same question.  What the heck was that stupid holdout all about?
   After insurrectionists burst into Speaker McCarthy's office Monday, the GOP should arrest them and charge them to the fullest extent just like the J6 protesters.
   Joe Biden lies during a speech saying he was at ground zero the day after 9/11... even the White House can't verify that.  It was 9 days later.
  And Trump's lawyers drop some stunning information that, if provable, could change the trials in Georgia and the federal case around J6.
Comments
(1)
To leave or reply to comments, please download free Podbean or